NSVRC encourages thoughtful exchange on how our next leader can help end sexual assault
Laura Palumbo, Communications Director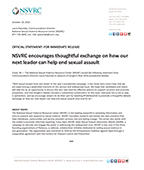 National Sexual Violence Resource Center (NSVRC)
877-739-3895, ext. 128; lpalumbo@nsvrc.org
OFFICIAL STATEMENT: FOR IMMEDIATE RELEASE
Enola, PA — The National Sexual Violence Resource Center (NSVRC) issued the following statement from Communications Director Laura Palumbo in advance of tonight's final 2016 presidential debate.
"With sexual assault front and center in this year's presidential campaign, it has never been more clear that we are experiencing a watershed moment on this serious and widespread issue. We hope that candidates and voters will take this as an opportunity to discuss the very real need for effective policies to support survivors and promote prevention, and that tonight's debate includes a substantive conversation on this topic. Everyone has a role to play in prevention, and we encourage viewers to do their part by tweeting #TalkAboutSA to promote a thoughtful debate exchange on how our next leader can help end sexual assault once and for all."
ABOUT NSVRC
The National Sexual Violence Resource Center (NSVRC) is the leading nonprofit in providing information and tools to prevent and respond to sexual violence. NSVRC translates research and trends into best practices that help individuals, communities and service providers achieve real and lasting change. The center also works with the media to promote informed reporting. Every April, NSVRC leads Sexual Assault Awareness Month (SAAM), a campaign to educate and engage the public in addressing this widespread issue. NSVRC is also one of the three founding organizations of Raliance, a national, collaborative initiative dedicated to ending sexual violence in one generation. The organization was chartered in 2000 by the Pennsylvania Coalition Against Rape through a cooperative agreement with the Centers for Disease Control and Prevention.